LSE DIGITAL ETHNOGRAPHY COLLECTIVE
In October 2019 I Co-Founded the LSE Digital Ethnography Collective, an interdisciplinary group exploring the intersections of digital culture and ethnographic methods, with Branwen Spector. We invite scholars at all levels to join us for regular public lectures, events and workshops. We welcome those interested in online culture (Internet/platforms/social media), and the ethnographic study of digital technologies. The aim of the group is to establish a global community of scholars of digital ethnography and to work through challenges in this growing subdiscipline.
PAST EVENTS

VIEW ZOOM RECORDING HERE

The LSE Digital Ethnography Collective (LDEC) and Rutgers Digital Ethnography Working Group (DEWG) are excited to invite you to our co-hosted zoom conversation with Stanford ethnographer Angèle Christin on Friday 12th February (1-3pm EST/6-8pm GMT). We will be discussing her new book Metrics at Work: Journalism and the Contested Meaning of Algorithms (Princeton University Press, 2020).Professor Christin will be interviewed by Jeffrey Lane (DEWG Co-Chair) and Zoë Glatt (LDEC Co-Founder) and the event will be chaired by Melissa Aronczyk(DEWG Co-Chair). They will discuss the book's findings and how Christin adapted her fieldwork to study algorithms inside the newsroom, in addition to the new methods Christin has developed to study algorithmic labor ethnographically during social distancing. This will be followed by a Q&A with all event attendees.

BOOK DESCRIPTION: When the news moved online, journalists suddenly learned what their audiences actually liked through algorithmic technologies that scrutinize web traffic and activity. How have audience metrics changed journalists' work practices and professional identities? In Metrics at Work, Angèle Christin analyzes the ways that journalists grapple with audience data in the form of clicks, and how new forms of clickbait journalism travel across national borders. Drawing on four years of fieldwork in web newsrooms in the United States and France, including more than one hundred interviews with journalists, Christin reveals many similarities among the news websites—their editorial goals, technological tools, and even office furniture. Yet she uncovers crucial and paradoxical differences in how American and French journalists understand audience analytics and how these affect the news produced in each country. The book shows how distinct cultural forces and journalistic traditions shape how journalists make sense of digital metrics. Contrary to the popular belief that analytics and algorithms are globally homogenizing forces, Metrics at Work shows that computational technologies can have surprisingly divergent ramifications for work and organizations worldwide.

Angèle Christin is an assistant professor in the Department of Communication and affiliated faculty in the Sociology Department and Program in Science, Technology, and Society at Stanford University. She studies how algorithms and analytics transform professional values, expertise, and work practices. You can follow her on Twitter @AngeleChristin and visit her website www.angelechristin.com.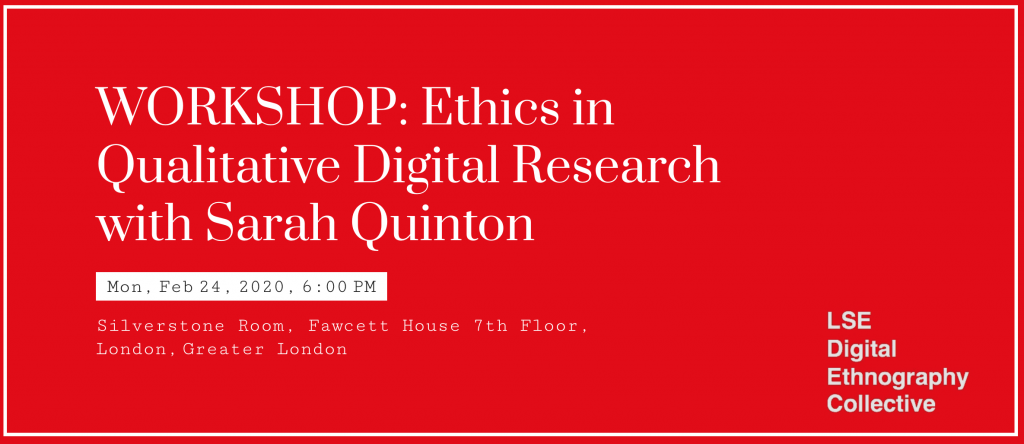 VIEW LIVESTREAM HERE

Based on popular demand, we are delighted to invite you to our next workshop 'Ethics in Qualitative Digital Research' with the wonderful Sarah Quinton on Monday 24th February. The ever-evolving digital landscape presents ethnographers with novel ethical challenges and dilemmas, many of which our members face in their own research. This session is designed to be a hands-on workshop that will help attendees grapple with the ethical dimension of their projects, offering suggestions for good practice. Sarah will give her more general guidance regarding the ethical conduct of qualitative digital research, and then as a group we will discuss given scenarios and collaboratively unpick these to find ways forward. Insights based on Sarah's extensive experience will be provided to encourage, enlighten and challenge assumptions. Participants will also have the opportunity to discuss their own work with Sarah and receive her expert advice. We are so lucky to have Sarah run this session for us, as she's an authority on social science research specifically relating to the digital, having recently authored Understanding Research in the Digital Age (Sage 2018), and is additionally the Chair of the Research Ethics Committee at Oxford Brookes University.

Sarah Quinton is Reader in Digital Society at Oxford Brookes University where she encourages research in the dynamic, technology enabled world. She is the author of multiple peer reviewed articles, two Sage books, supervisor to many inspiring PhD students, and a collaborative researcher with colleagues in Europe and Australia. Her current research focuses on the role of digital technology in alleviating social isolation, through social connectivity, to enhance wellbeing in older citizens. Her interdisciplinary work involves creative, participatory research methods, including digital ethnography to engage and give voice to this underrepresented but growing group in society.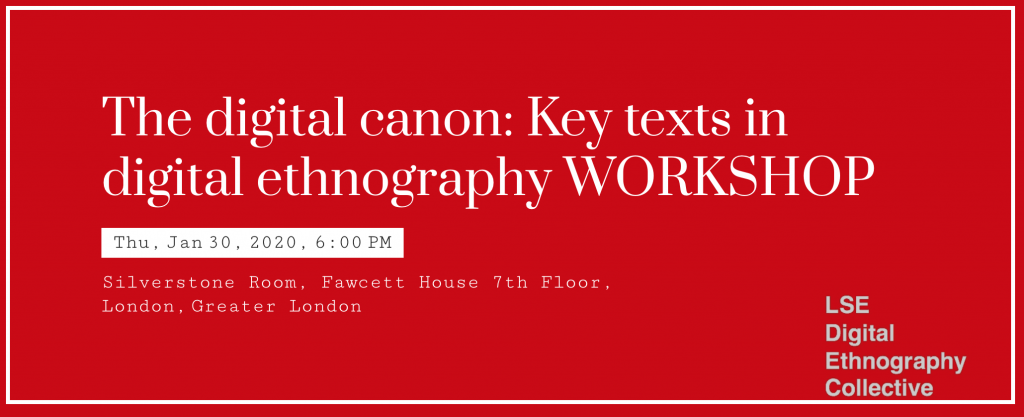 VIEW LIVESTREAM HERE

We are pleased to invite you to our next event 'The digital canon: Key texts in digital ethnography' on Thursday 30th January. This session takes the form of a collaborative workshop as we invite scholars of digital ethnography and enthusiasts to join us in discussing 'what is canon?' in digital ethnography. As qualitative research departments around the world begin to pay more attention to digital ethnography as a method but teaching on the subject remains in its infancy, we aim to develop a reading list of essential, exemplary, and exciting digital ethnographic research. We'll be tackling such subjects as method, ethics, theory, as well as different directional interests within the genre such as gaming, labour, visual culture, new modes of sociality, and other emerging themes.

This session is designed to benefit both those researchers with a strong background in the relevant literature looking to develop a reading list and scholars new to the genre wanting to know where to start. We invite participants to come with a list of digital ethnographic readings that they are working with so that we can compile a master reading list together during the workshop. If you do not have a list of readings already then you are still welcome to attend. We have a strong network of expertise and we have high hopes that this will be an extremely generative and collaborative session, between those who can attend in person and those who can contribute via the livestream chat. We will be sending the compiled reading list out to our full mailing list afterwards, in hopes that this will be a very useful document for all of our members. [READING LIST AVAILABLE HERE]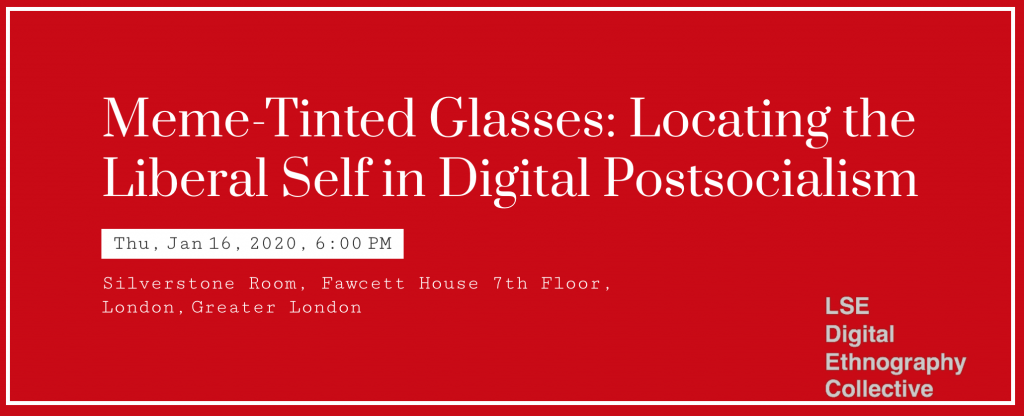 VIEW LIVESTREAM HERE

Happy New Year! We are delighted to announce our next event on Thursday 16th January with Rik Adriaans (UCL Digital Anthropology) titled Meme-Tinted Glasses: Locating the Liberal Self in Digital Postsocialism. The session will consist of a talk from Rik followed by discussion on his work and broader issues around digital ethnographic research of visual culture. During the 2010s, internet memes have solidified their place as a global vernacular. Challenging the digital dualism of offline and online, memes are increasingly referenced, reappropriated and performed in a wide range of settings beyond the scope of social media platforms. Drawing on examples from Hungary and Armenia, this presentation examines how memetic sensibilities have become central to the ways in which liberal youth orient themselves in the everyday politics of postsocialist transformations. It explores how perceived remnants of socialism and elements of the illiberal present are turned into a source of the liberal self by apprehending them through the ironic sensibilities of the internet meme form. No longer bound by digital devices such as smartphones, the memeification of reality is key to the everyday negotiation of dichotomies of capitalist modernity versus the socialist past, orient versus occident, as well as class antagonisms and rural-urban divisions.

Rik Adriaans is a Teaching Fellow in Digital Anthropology at UCL Anthropology. He is interested in questions of media and mediation, (trans)nationalism, post-socialism and public culture with a regional focus on Armenia and the global Armenian diaspora. His doctoral thesis was a multi-sited ethnography of the media circuits connecting the Armenian diaspora of Los Angeles to post-Soviet transition.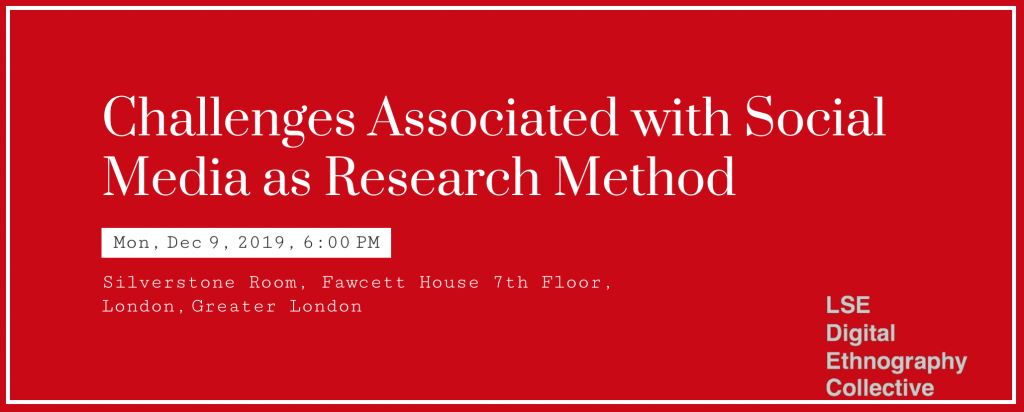 Please join us on Monday 9th December for a workshop run by Branwen Spector (LSE) and Theodora Sutton (OII) on the challenges associated with social media as research method. Ethnographic research increasingly involves the use of the Internet and social media, both by the researcher as a method and by one's interlocutors. The literature on ethnographic methods using the Internet, however, are often outdated and do not reflect sufficiently on the experiences of the researcher. In this workshop, Theodora and Branwen will discuss their experiences working with online communities both on- and off-line and present their suggestions and strategies for three stages of fieldwork using social media; pre-field, during fieldwork, and post-field, offering advice on opportunities for access, ethical dilemmas, managing online and offline relationships, negotiating consent and data safety, and boundary creation – all of which are impacted by the use of new digital tools in ethnographic research. We will then open the discussion to providing and crowdsourcing thoughtful guidance on how to use it both logically and sensitively to interlocutor and researchers' interests and safety.

Branwen Spector is a PhD candidate in the Department of Anthropology at the London School of Economics. Her work focuses on mobility and infrastructure in the Middle East, with a special focus on new and alternative interpretations of infrastructure. She also writes about social media, surveillance, safety, and wellbeing in the region. Branwen is the co-founder of The New Ethnographer, a project that writes, teaches, and consults on how institutions can better support researchers conducting fieldwork. Branwen is also the co-founder of the LSE Digital Ethnography Collective.

Theodora Sutton is a digital anthropologist and DPhil candidate at the Oxford Internet Institute, University of Oxford. Her research focuses on a Californian "digital detoxing" community, looking at themes of New Age spirituality and mental health in the context of digital technology. She is interested in culturally specific interpretations of technology, the natural, and authentic, as well as methodological and ethical issues in digital ethnography. Theodora helps to run OxDEG, the Oxford Digital Ethnography Group. You can read more about her on her website: theodorasutton.co.uk
Please join us on Monday 11th November for our third meeting! The wonderful Patricia G. Lange will be joining us from San Francisco via Skype to give a talk on Social Forms of Reciprocity in the Digital Era, followed by a Q&A and discussion on the theme of the talk. Many scholars and pundits are concerned that we are "losing" reciprocity and associated warm interactions that form the basis of strong social ties in digital environments. Observations of rampant narcissism in video making has lead to anxieties that on sites such as YouTube, insufficient attention is being paid to fellow video makers. This talk will outline the ways in which attentional reciprocities (such as watching each others' videos) as well as gestures of mutual support in hard times are apparent amid a group of YouTube participants who use the site socially. At the same time, the talk also draws from anthropological theory to show that not all reciprocities are mutually beneficial. Some bids at attentional reciprocity are used to gain asymmetrical advantage in YouTube viewing metrics. YouTubers who detect such insincere bids at attention tend to eschew them to preserve a creative and social atmosphere on the site. Rather than being a panacea for successful interaction, the talk will explore nuanced forms of reciprocity—and its withholding—to illustrate how reciprocities are enacted and contested within a video sharing milieu.

Patricia G. Lange is an anthropologist and associate professor of Critical Studies (undergraduate program) and Visual & Critical Studies (graduate program) at California College of the Arts in San Francisco, California. Her work focuses on the use of video to express the self and engage in sociality. Her new book, Thanks For Watching: An Anthropological Study of Video Sharing on YouTube (University Press of Colorado, 2019), analyzes how YouTubers used the site to form community, engage in attentional reciprocity, and provide mutual support. She is also the author of Kids on YouTube: Technical Identities and Digital Literacies (Routledge, 2014). Her website is: patriciaglange.org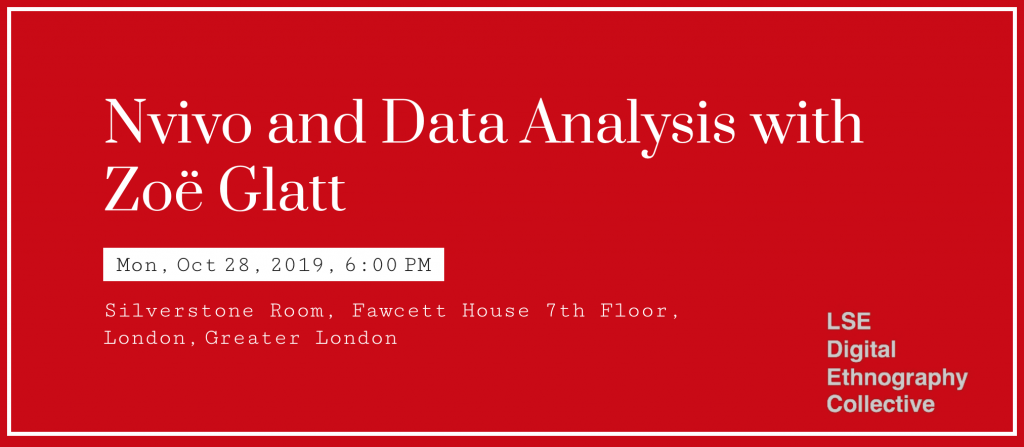 VIEW LIVESTREAM HERE

Please join us on Monday 28th October for our second meeting! This session will be a workshop run by Zoë Glatt on using Nvivo for digital ethnographic data analysis. Zoë will open the session by showing how she has analysed her PhD data in Nvivo and then will open up the discussion to how attendees have approached this issue themselves. The session is aimed at thinking through how different approaches to data analysis have an impact on the ways in which projects develop and ideas form. We invite participants to bring their laptops and share their own experiences with data analysis or their future plans for projects.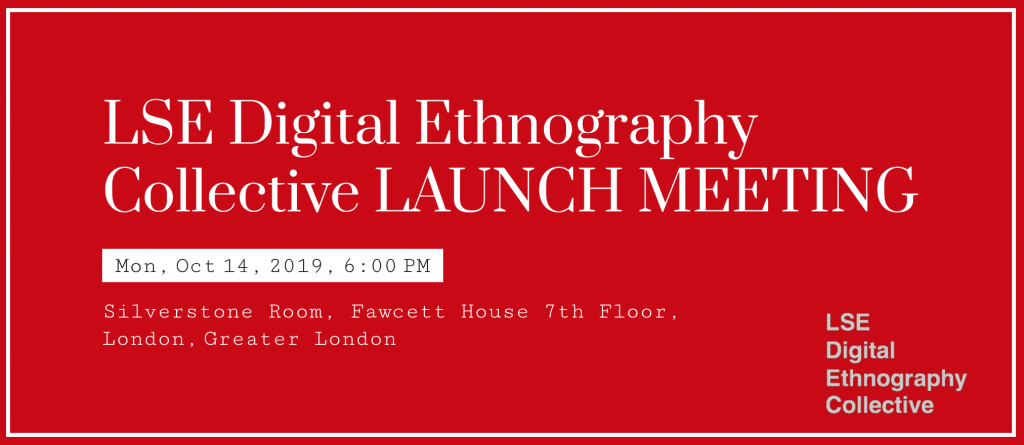 VIEW LIVESTREAM HERE

We are pleased to announce the LSE Digital Ethnography Collective, a new interdisciplinary group exploring the intersections of digital culture and ethnographic methods. We invite scholars at all levels to join us in fortnightly meetings where we will host speakers and workshop new ideas. We welcome those interested in online culture (Internet/platforms/social media), and the ethnographic study of digital technologies. The aim of the group to establish a community of scholars of digital ethnography and to work through challenges in this emerging subdiscipline. Please join us for our launch meeting on Monday 14th October! In the first session we'll get to know each other and discuss the future of the group. We will go to the pub afterwards if people would like to!